Heritage is committed to supporting our membership in their efforts to continue their education. This scholarship is named in honor of that commitment. Heritage will award $2,000 scholarships to 10 individuals annually with $1,000 distributed at the beginning of the fall semesters the first and second year. Scholarship money will be distributed directly to the student's Heritage account and can be applied to tuition, books, fees, room and board, or other related expenses. If the student does not maintain full-time enrollment after the first year, the remaining reward will not be awarded. Students that accept a full ride scholarship from any other source should notify Heritage and decline the Heritage Designed for You Scholarship.
Scholarship Eligibility
The minimum unweighted GPA requirement is 3.3 (or a B+ average).
Two scholarships each year will be dedicated to immediate family members of employees.
The student is a senior and attends a school in a county where a current Heritage branch operates. A complete list of branch locations is available here: heritagefederal.org/locations
Please submit all required materials as PDF files in one email to scholarship@heritagefederal.org by 11:59 pm on February 28, 2023.
2023 Scholarship Application Deadline has now passed.
Heritage Scholarship Designed for You Recipients 2023
Brooke Sledd – Mount Vernon High School
Corben Lashley – Boonville High School
Gavin McMinn – Memorial High School
Haley Scheu – Reitz High School
Kailey Walker – Mater Dei High School
Katelyn Cross – Boonville High School
Lauryn Boyd – Harrison High School
Lindsay McDaniel – Tecumseh High School
Matthew Fouts – Castle High School
Rachel Pohl – Gibson Southern High School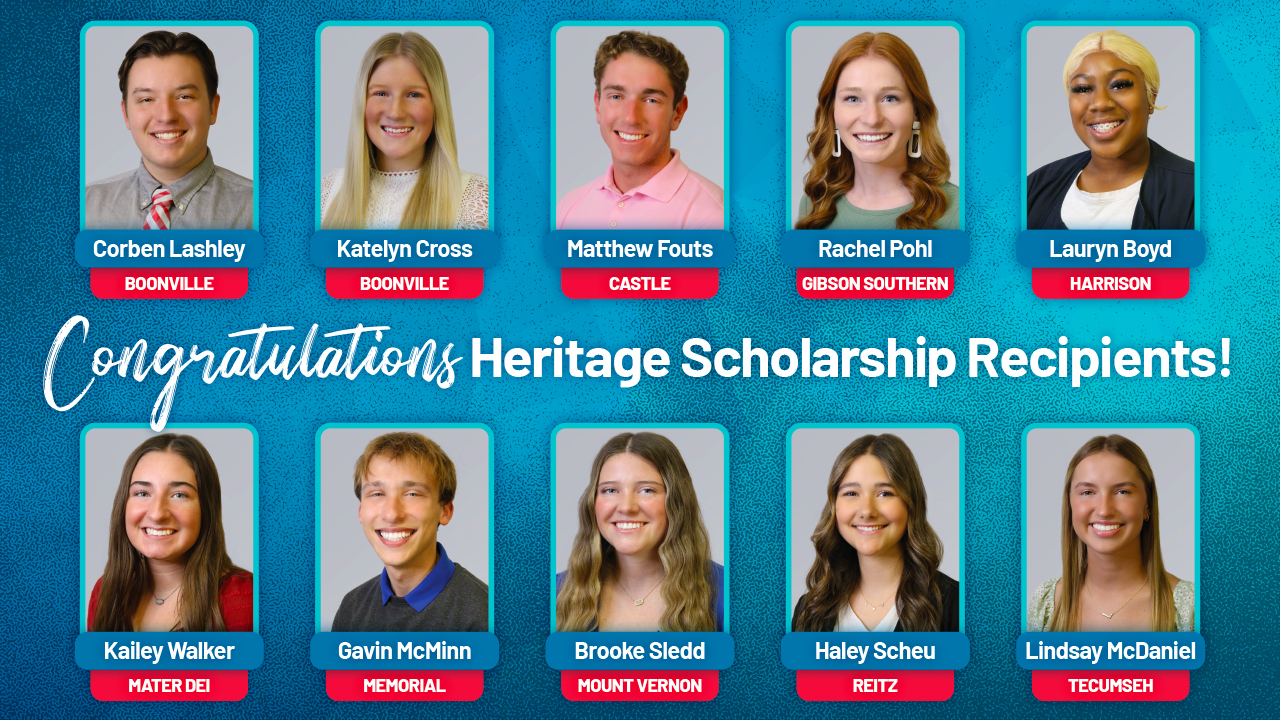 Go to main navigation