Unlock the Equity in Your Home and Put it to Work for You
What is Home Equity? It's the current value of your home minus your mortgage balance. With a Home Equity loan, you can borrow against that equity and use the money for a variety of purposes like:
Home Improvement Projects
Debt Consolidation or Pay Off Bills
Pay for Large Purchases Like Weddings or College
Have Access to Money for Emergencies
Flexible Home Equity Line of Credit
With Home Equity FLEX-LOCK, you can enjoy the security and savings of a fixed rate with the flexibility of a variable rate line of credit. FLEX-LOCK allows you to borrow up to 90% of the appraised value. Account balances can be converted to a fixed rate calculation, up to two at one time.1
Lock in your interest rate
Only one payment due on the 25th of each month
No prepayment penalty
Use your Heritage HELOC card, or write checks directly from the HELOC
Fixed Rate Home Equity Loans
Our fixed rate home equity loan is perfect for budgeting purposes. You can count on the same monthly payment for the life of the loan. A one-time processing fee of $250 is charged unless $10,000+ of new money is advanced at the closing.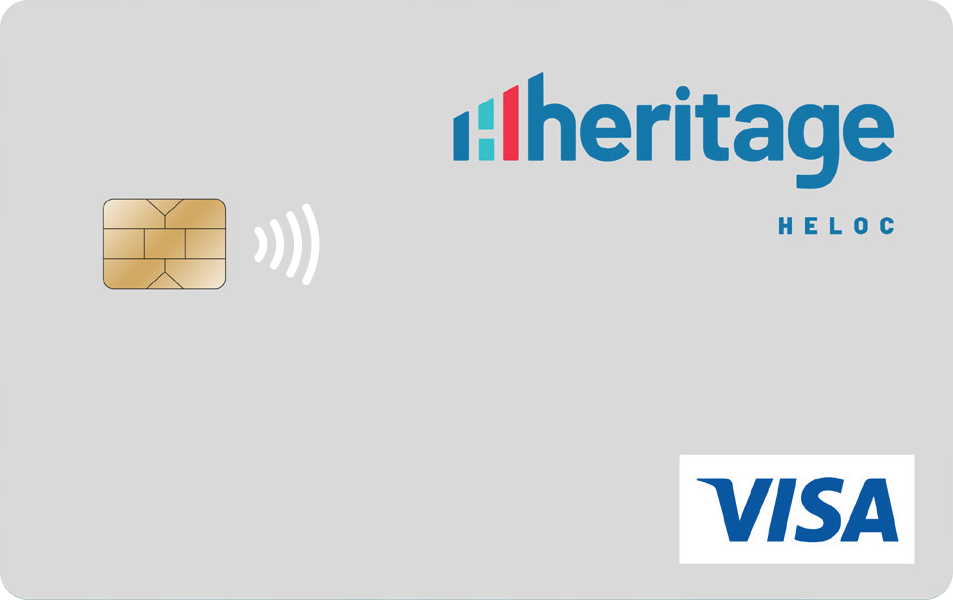 Your Heritage HELOC card will will give you access to your Home Equity Line of Credit 24/7, making tackling home improvement that much easier, just tap and go.
Simpli-Easy Refi
Save money and time with $249 closing costs2, with our Simpli-Easy Refi you can refinance your first mortgage at a low rate with terms up to 15 years.3
No matter the need, our flexible Home Equity loan options give you the ability to activate the funds you need, when you need them. Contact one of our Loan Officers to help you select the right option for your goals.
---
1The prime rate is the highest prime rate published in the Money Rates section of the Wall Street Journal in effect on the first day of each calendar month. Prime is a variable rate; as it changes, the APR on your account will also change. As of 07/26/2023, the Prime Rate is 8.50%. Current rates range from Prime – 0.25% currently 8.50% APR to Prime + 1.00% currently 9.50% APR. The minimum APR will not go below 3.00% and the maximum APR will not exceed 18.00%. $150 processing fee waived if advancing $10,000 when the account is established. $50 annual fee waived if you take at least one advance during each 12-month period preceding the anniversary date of your account. Consult a tax advisor regarding deductibility of interest. Credit is subject to approval and underwriting factors. All credit union loan programs, rates, terms and conditions are subject to change at any time without notice.
Fixed Rate Conversion Option: During the draw period, Variable Rate Account balance(s) can be converted to a Fixed Rate calculation. You may exercise the option to convert up to two times (subject to a maximum of two Fixed Rate balances outstanding at any one time), and the specific rate that you receive will be based upon the credit union rates in effect at the time of conversion. For the applicable minimum monthly payment, daily periodic rate and corresponding APR for each Fixed Rate balance, a separate Fixed Rate Conversion Request document will be provided to you at the time of such conversion.
2Simpli-Easy $249 Closing Cost is not considered a finance charge per regulation. The items included are: Appraisal Fee; Title work; Flood; and recording fee. Equal Housing Lender
3Exclusive to first mortgage refinances. Subject to credit review and approval. Offer available on first lien refinances only; loan to value not to exceed 80%. Property insurance is required. Programs, rate, terms and conditions are subject to change without notice. Some restrictions apply.
Go to main navigation